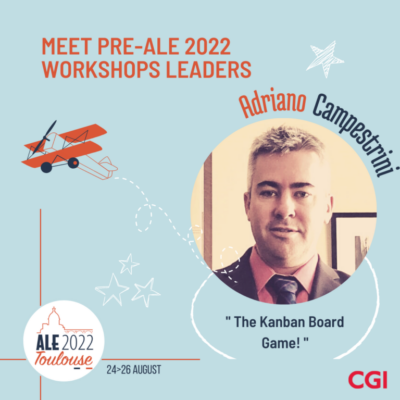 The Kanban Board Game
Do you want to spend some time playing a good old board game while running the most realistic simulation of the Kanban Method you've ever seen? Come join us in this workshop at ALE2022 – The Kanban Board Game in Toulouse!
During the workshop we'll run a board game designed to teach concepts and mechanics of Kanban Method. It's part of the official curriculum of Kanban certifications and it's super realistic.
Workshop format
The game/simulation runs for around 3 hours (maximum 3h30) all inclusive: intro, gaming and debriefs. It accepts a maximum of 24 people, to be divided into 4 groups of 6 people. Each group goes through 12 rounds (or until time limit) and in each round they need to decide how to organize around the incoming demands. Their decisions lead to good or bad team performance measured in lead time and business value, meanwhile some surprising elements are added to the game.
Date: 24-Aug-2022
Duration: from 3 hours to 3h30
Number of participants: maximum 24 people
Facilitator: Adriano Campestrini
Promoted by ALE2022 – Agile Lean Europe
It's a well known game/simulation which has been played world-wide with great feedback! Et voilà! Let's have fun and discover Kanban!
ALE2022 – Agile Lean Europe in Toulouse
The Agile Lean Europe – ALE2022 will take place this year in Toulouse. It's one of the biggest agile (un)conferences in Europe. The first day of ALE2022, August 24th, will be dedicated to workshops and masterclasses, including The Kanban Board Game in Toulouse.
Toulouse is also the centre of the European aerospace industry, with the headquarters of Airbus , the SPOT satellite system and the Aerospace Valley. It also hosts the  CNES's Toulouse Space Centre (CST), the largest space centre in Europe.
Looking forward to meet you there. It's going to be ALEsome!