Scrumban in (another) big bank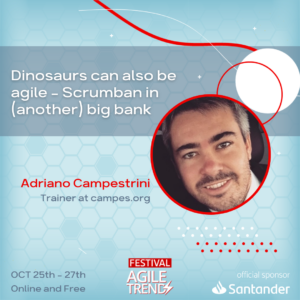 This case study is about implementing common sense changes where they were needed. More than a success story that started with Scrum, switched to Kanban and scaled, it's a 3-year long story about simplicity, precise and data-driven changes, leading to a successful roll-out of a new system to the whole bank, where everything contributed to a failure full of excuses: bureaucracy, legacy, lack of support and resistance.
From no users in production to roll out of the whole bank. From no user involvement to user-driven. From a lead time of 118 days down to 12 days. This session will fill the gap between from & to, going through dissatisfactions, demand/capacity analysis, evolution with policies, managing the upstream, decoupling delivery cadence and years of complete measurement (lead time histogram, WIP run chart, release burndown), from estimates to SLAs/SLEs.
Get to know more about the Kanban Method.
Take aways
How to fly an agile transformation under the radar.
How to strategically setup a roll-out plan.
Dealing with scope creep by applying policies to the upstream.
Align long-term vision in a team operating in a Kanban system.
How to stop estimating and commit based on SLEs for software development.
How to reduce lead time and increase predictability by identifying patterns in your service.
Festival Agile Trends 2022 from Madrid
The fourth edition of Festival Agile Trends, a free online event sponsored by Banco Santander and supported by several organisations. Festival's goal is to bring together experts worldwide to share their experiences and help people and companies interested in developing and evolving their agile practices. Join us from October 25th to 27th ➡︎ Festival Agile Trends 2022.